Major Ian P. Santos (Ret)
Senior Marine Instructor ("SMI")
MCJROTC – Orange High School (2017 – Present)
Major Santos was born in New York, NY, and was raised in Queens and Great Neck, NY. He enlisted in the Marine Corps Delayed Entry Program in October 1991 and shipped off for Recruit Training at Parris Island, SC, on 14 January 1992, where he graduated as a meritorious Lance Corporal and the Honorman for Platoon 1037, Company D, 1st RTBn, on 10 April 1992.
Following Marine Combat Training, Major Santos reported to the Marine Corps Communications and Electronics School, Marine Corps Air Ground Combat Center, 29 Palms, CA, where he graduated as Class Honorman from the Basic Electronics Course in August 1992. Selected for Cryptological Technician, he transferred to the Marine Detachment, Fort Gordon, GA, where he graduated as Class Honorman from the Army's Cryptological Technician School in March 1993.
Major Santos reported to his first permanent duty station, Communications and Electronics Office, Company B, Headquarters and Support Battalion, Marine Corps Base, Camp Lejeune, NC, in April 1993. Following 19 months at Camp Lejeune, Major Santos transferred to Electronics Maintenance Company (ElMaCo), 3d Maintenance Battalion, 3d Force Service Support Group, Okinawa, Japan, in November 1994, where he served as a Cryptological Technician and as the company's Tool Control NCO. While with ElMaCo, Major Santos applied for the Marine Enlisted Commissioning Education Program. Accepted for the program he transferred to the Naval Reserve Officers' Training Corps of the University of San Diego in May 1996.
Major Santos attended San Diego State University and graduated with a B.A. as a History major in December 1998. Commissioned on 19 December 1998, he reported to Quantico, VA, for The Basic School. Following TBS, Major Santos was assigned as an 0180/Adjutant and transferred to Marine Corps Recruit Depot San Diego for on the job training. Major Santos attended the formal Adjutant Course on Camp Johnson, NC and finished as the Honor Graduate.
In September 2005, Major Santos left active duty and became a Reservist. After separating in 2005, he activated all but 12 months serving with Marine Forces Reserve in 2006, III Marine Expeditionary Force in 2007, Marine Forces Pacific 2008 – 2010, and Training and Education Command 2010 – 2013 where he retired from. During 2009-2010, Major Santos deployed in support of OPERATION ENDURING FREEDOM – PHILIPPINES as the Anti-terrorism/Force Protection Officer and served as the Senior Marine in country.
Major Santos currently serves as the Senior Marine Instructor, Marine Corps JROTC, Orange High School. His personal awards include the Meritorious Service Medal, Navy Commendation Medal, Joint Service Achievement Medal, Good Conduct Medal, Select Marine Corps Reserve Medal, National Defense Medal with Bronze Star, Global War on Terrorism Expeditionary Medal and Service Medal, Korean Defense Service Medal, Sea Service Deployment Ribbon, and the Armed Forces Reserve Medal with Mobilization Device.
Master Sergeant Ed Aguilar (USMC, Ret.)
Marine Instructor ("MI")
MCJROTC – Orange High School (1998 – Present)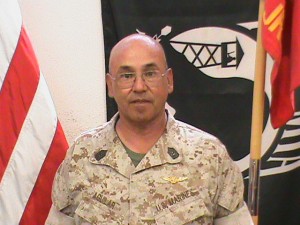 Following completion of recruit training, San Diego, California, in December 1971, I received orders to Infantry Training Regiment (ITR), Camp Pendleton California for infantry training. Upon completion of ITR, I was then ordered to report to Battalion Infantry Training School (BITS) for MOS training and was designated a machine gunner/0331 MOS. I then received orders to report to Camp Lejeune, North Carolina for duty, where I volunteered to go to Guantanamo Bay, Cuba for six months. After departing Cuba, I was then assigned to Headquarters Battalion 2/8 Military Police Company, Camp Lejeune, North Carolina, and was honorably discharged after my two year enlistment.
I reentered the Marine Corps in December 1976, and served two years with Alpha Company, 1st Battalion, 1st Marine Division, Camp Pendleton, California. During this period I was meritoriously promoted to Lance Corporal in July 1977 and Corporal in May 1978. Changed career fields into aviation field in December 1978. Following completion of the Basic Helicopter Course, Millington Tennessee, in April 1979, I then reported to Marine Corps Air Station, Tustin, California, and was designated a T-64GE-413 engine mechanic/6123 MOS for CH-53A/D helicopters.
From June 1979 until October 1982, I was assigned to HMH-363 Marine Corps Air Station Tustin, California, and went on two deployments to Okinawa with the squadron. I was promoted to the rank of Sergeant October 1980. From October 1982 until December 1983, I was assigned to HMT-301, and then received orders to recruiters school, San Diego, California. After graduating recruiter school, I was assigned to Recruiting Station Los Angeles, California from March 1984 until July 1990.
I was promoted to the rank of Staff Sergeant in April 1984 and meritoriously promoted to Gunnery Sergeant in April 1987.
In September 1990, I was assigned to MALS-16, MAG-16, Tustin, California, and deployed to Okinawa with HMH-6 UDP for seven months in 1991. Upon returning to CONUS in May 1992, I was assigned to MALS-16. I returned to HMH-363 from September 1992 until December 1992. I returned to recruiting duty with Recruiting Station San Diego, California beginning January 1993, was promoted to Master Sergeant May 1995, and retired May 1997.
Personal decorations include:
Navy and Marine Corps Commendation Medal
Marine Corps Good Conduct Medal with 5 stars
Certificate of Commendation (2)
Meritorious Mast (16)
Letter of Appreciation (2)
Service awards include:
National Defense Service Medal with 1 bronze star
Sea Service Deployment Ribbon with 2 bronze stars
Recruiter Ribbon w/2 stars
Navy Unit Commendation
Meritorious Unit Citation w/3 stars